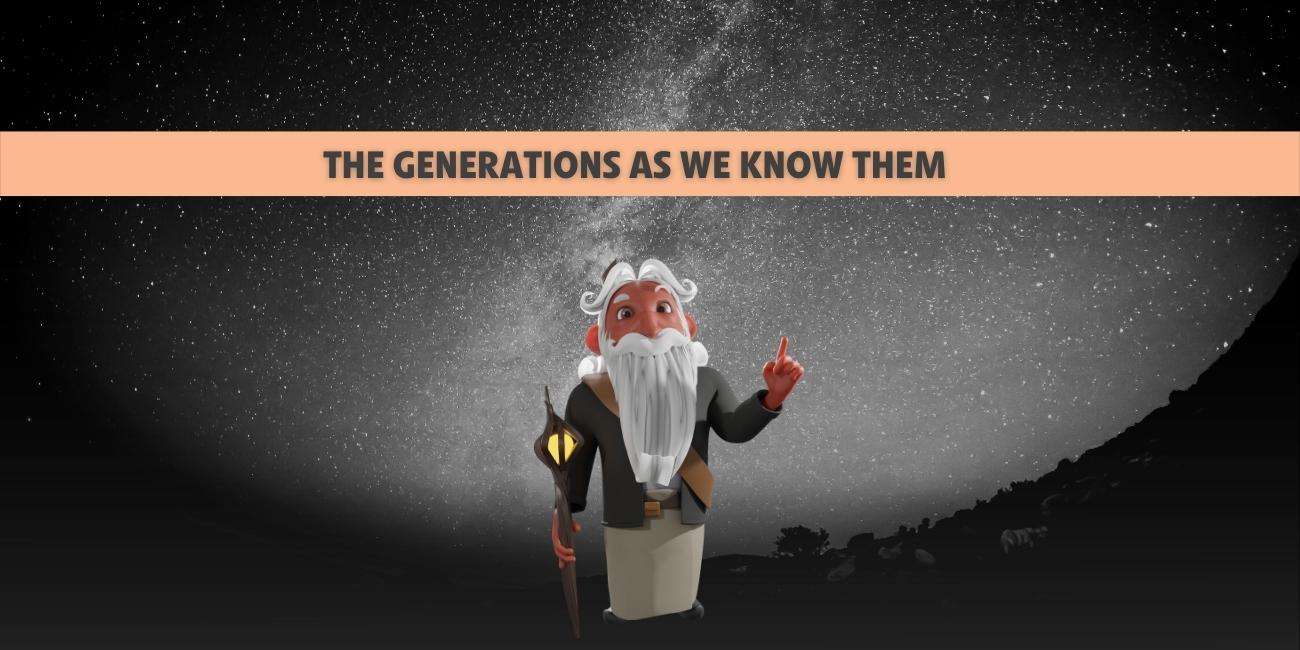 The Generations as we know them
When you become as old as me and have seen the things that I have seen, you will realize that times change, people change and sometimes history repeats itself. And with that said, I can guarantee you that you will never grow as old as me, a whole 30006 years to be exact and will probably never see the things that I have witnessed from the beginning of civilization. Who am I, you ask? Well, my name is Jupiter Sebastian, the seeker of truth and my trusted companion Knight Sky has been telling me that some folks wish to know about the various generations that are around now. I have seen many, but to make things easy for you, I will only tell you about those that concern you.
First up are the Maturists who are 77 years and older. Life for these folks is all about hard work, honour and respect and most would say family life is very important to them. The Baby Boomers are those 62 and above who believe education is everything. They are planners and make it their goal to work for a reputed company or become a professional. Generation X, 42 and older are the lovers of the Masters Degree who like to stick to the same field of profession but will change companies if necessary. Those 27 and above are who we call Gen Y, the ones who work hard and play hard. Education and career for them is mostly trial and error and I have observed how they change careers and fields entirely. And lastly, those 26 and below are the Gen Zs who are probably the most interesting of the lot if I may say so myself. They are the explorers and call themselves the global citizens and often question the purpose of education and career.
If each generation were to look at their kids age, they'd be in their late 40s or 50s for the Maturists who have raised their kids to listen keenly to them. The kids of Baby Boomers will be in their mid-40s and I have witnessed how most of them encourage their kids to migrate in search of better opportunities. Generation X are parents to teenagers. These parents learn and adapt to their children, to be "cool" as they call it. They stress on learning English. Those in Gen Y are parents to kids under 9 and aren't they a stressed bunch! Remember the trouble you gave your mum when you were 9? And lastly Gen Z, who if they have kids are parents to toddlers and are impatient to get their kids to adapt to their surroundings soon.
Each generation has had some peculiar products defining its era. I know those in Generation X and Y must be quite familiar with Netflix and smart phones, laptops, internet, and DVD's. But before that were walkmans and laser discs and even before those were radios, television, and automobiles. Quite interesting how we've evolved, isn't it?
I have seen how starting from Maturists, homes have evolved from being living spaces with gender roles, two storey houses and debt free to those co-inhabited by pets, rented out areas and cozy living spaces with a lot of attention given to the Wi-Fi and internet connectivity.
Each generation has seen its own bleak event often being a landmark in their youth. Like the Sinhala/Tamil terror attacks for the Maturists, the political rollercoaster for the Baby Boomers, Black July for Gen X, the Tsunami for Gen Y and the Easter terror attacks for Gen Z. Funny how some things in history tend to repeat themselves.
I hope this introduction to the generations has been insightful. You will hear from me and Knight Sky again soon! Until then, keep seeking the truth!
Yours Truly,
Jupiter Sebastian.