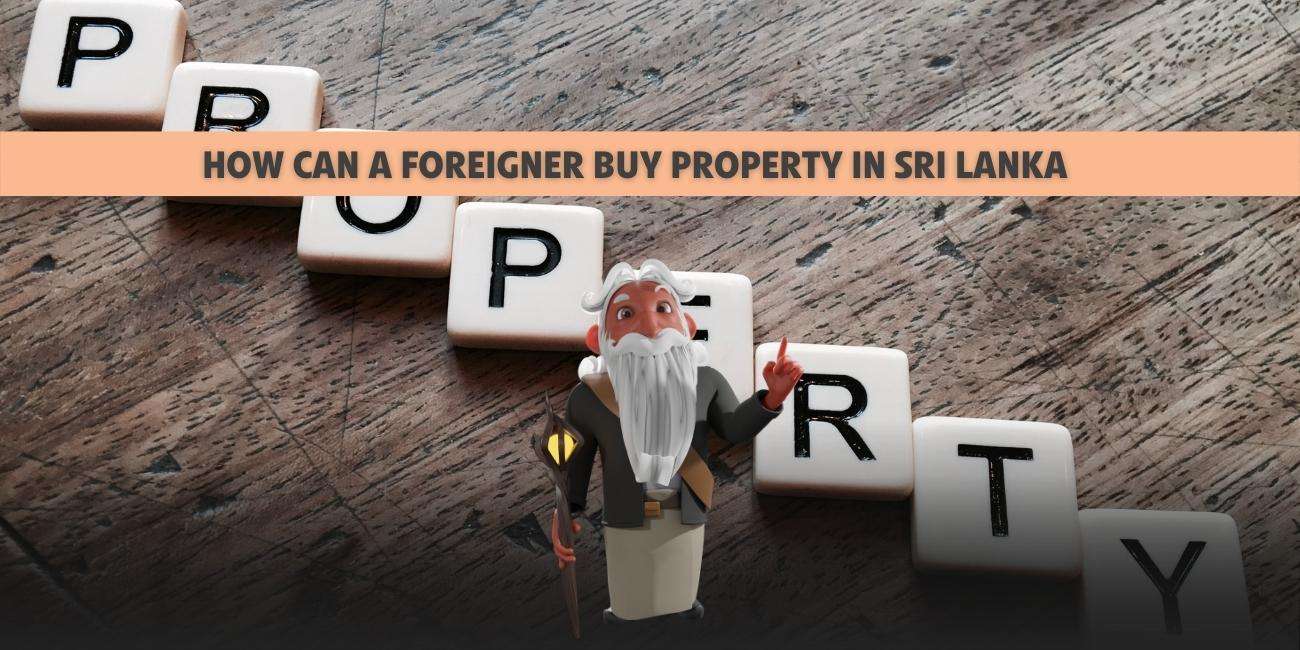 How Can Foreigners Buy Property in Sri Lanka
The laws governing property purchases by foreigners in Sri Lanka are complex and vary from one type of property to another. The following are the main types of property that foreigners can purchase:
By leasing the property
Inherit
Gift from parents
Be a part of a private company with a local shareholding of 50% or above
Buy an apartment/condominium (any floor)
Obtain Dual Citizenship
1) Residential property: a house, flat, or apartment. The law allows foreigners to purchase residential properties from ground level upwards but does not allow them to buy land on freehold, which can only be leased for 99 years.
2) Commercial property: such as offices, shops, or factories. Foreigners can buy commercial properties provided that they are built on leasehold land and have been approved by the relevant authorities before executing the appropriate transfer deed.
Foreigners cannot buy land in Sri Lanka by law. Foreigners can own only apartment units and must obtain approval from the Board of Investment (BOI) before purchasing a property. They will also need permission from the Urban Development Authority (UDA).
What Was The Legal Process For Buying Property In Sri Lanka?
The legal process for purchasing property in Sri Lanka is relatively straightforward. The first step is to register the title of the property with the Lands and Survey Department, which requires you to produce a certified copy of your passport and a certified copy of your parent's or spouse's passport if you are married, along with a letter from your bank stating that you have sufficient funds in your account to pay for the property.
You can then apply for a provisional transfer certificate (PTC), which allows you to reside and use your property as if it were registered in your name. You will also need to pay stamp duty on the PTC application and an annual land tax on any land that you own.
Once all this is done, you can apply for complete registration of the title in your name and begin living there without any further taxes or duties payable until you sell the property again or leave Sri Lanka permanently
Taxes Information
These are the some taxes for foreigners and local people to buy a property in Sri Lanka:
The VAT rate in Sri Lanka is 15%, and it's playable on all goods and services sold locally or imported into Sri Lanka. This means that if you buy property in Sri Lanka, you'll have to pay 15% VAT on your purchase price before your money goes into an escrow account. The money will be kept in an escrow account until you possess your new home.
The buyer has to pay Stamp Duty and Transfer Tax on the purchase of land and building. Stamp duty is calculated at 1% of the sale consideration payable by the purchaser. Transfer Tax (TT) is estimated at 1% of the sale consideration less stamp duty. The amount payable as TT shall be deducted from the gross review and paid by the purchaser before transfer registration.
everyone needs to pay a 1% stamp duty when the rent is collected. The VAT tax is 8% if the person is legally registered with the Lankan government.
10% on the profit made on the sale of the property. Capital Gains Tax is not applicable if you sell the property within three years from the Country.
Suggested Read: Investing in Sri Lanka Real Estate
Where to buy property in Sri Lanka?
Those looking to settle down or start a family in Sri Lanka have several popular cities to choose from. We have compiled a list of the best places to buy property in Sri Lanka. If you are looking for some great locations to invest your money in, then this list will help you find the perfect location for your needs.
The best places to buy property in Sri Lanka:
Colombo City Center (Cantonment)
Kurunegala
Bentota
Kandy
Negombo
Galle
Sending money in and out of the country
If a foreign resident wants to purchase a property, then the money will need to be channeled into the country via a special SIA (Securities Investment Account) – called Inward Investment Accounts (IIAs), held y gains) via the same account in the. Suppose you hadn't been brought via an SIA account (e.g., inherited, bought while a citizen of Sri Lanka).
The source of the money can be proven to the bank by showing the receipt of the sale agreement from the seller's lawyer or buyer's lawyer.
It would be best to use a local bank to pay for your land. Using the Central Bank of Sri Lanka is also advisable due to better exchange rates (than private banks) and fast processes (there have been cases where private banks took up to a year or more to process payments).
If you choose a foreign bank for such purposes, it might cost you up to 5% of value or more, depending on which country. You will also need an attorney and legal advice when buying properties in Sri Lanka.
If you are buying with cash – you will need to prove that it is your own and not borrowed from anyone else.
The Conclusion
These are some important information about purchasing property in Lanka. This article is not intended to provide legal advice, so please talk to your accountant or lawyer before making real estate purchases.
In many cases, property ownership comes with certain tax benefits and exemptions, so you should know about them and decide if they are worth the cost of owning property in Sri Lanka.
If you want to buy a land in Kurunegala contact CBH Lands Premier.
FAQs:
Can foreigner own property in Sri Lanka?
Yes, The foreigner own property in Sri Lanka through some rule and Regulation of Lankan Government.
Is it a good time to buy property in Sri Lanka?
time to buy If you Want Buy Property in Sri Lanka then monitor the property pricing In Sri Lanka. Other the best time to buy property when you can afford it.
Where is the best place to live in Sri Lanka?
Colombo, Kurunegala, Bentota, Kandy and Galle.
Can I get Sri Lankan Passport?
Yes you can get passport for 5 years and then you can extend there time period also.